no seconds
When the expectation of solitude is subverted in their final moments of life, fresh possibilities open up for Chandra and Marcel.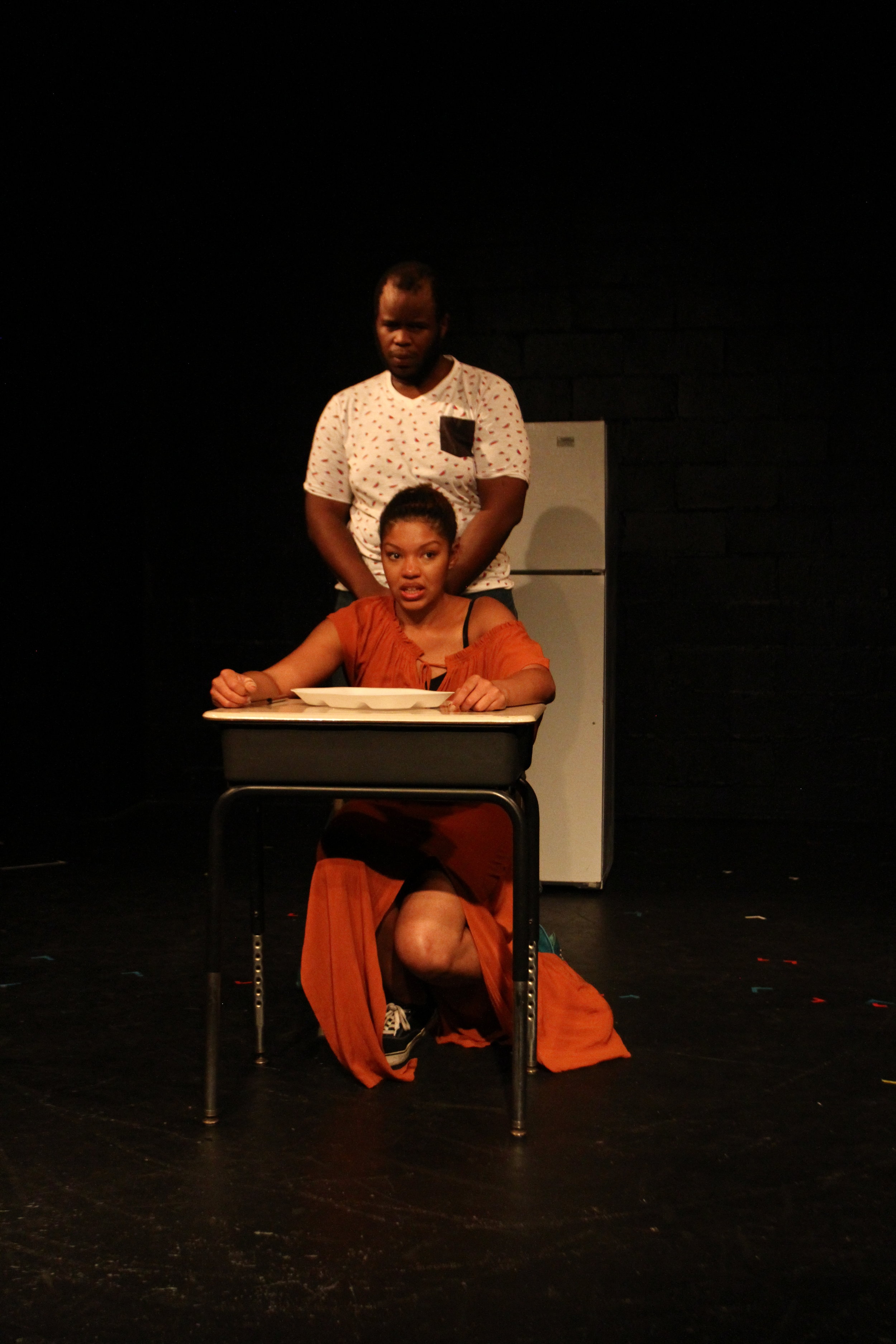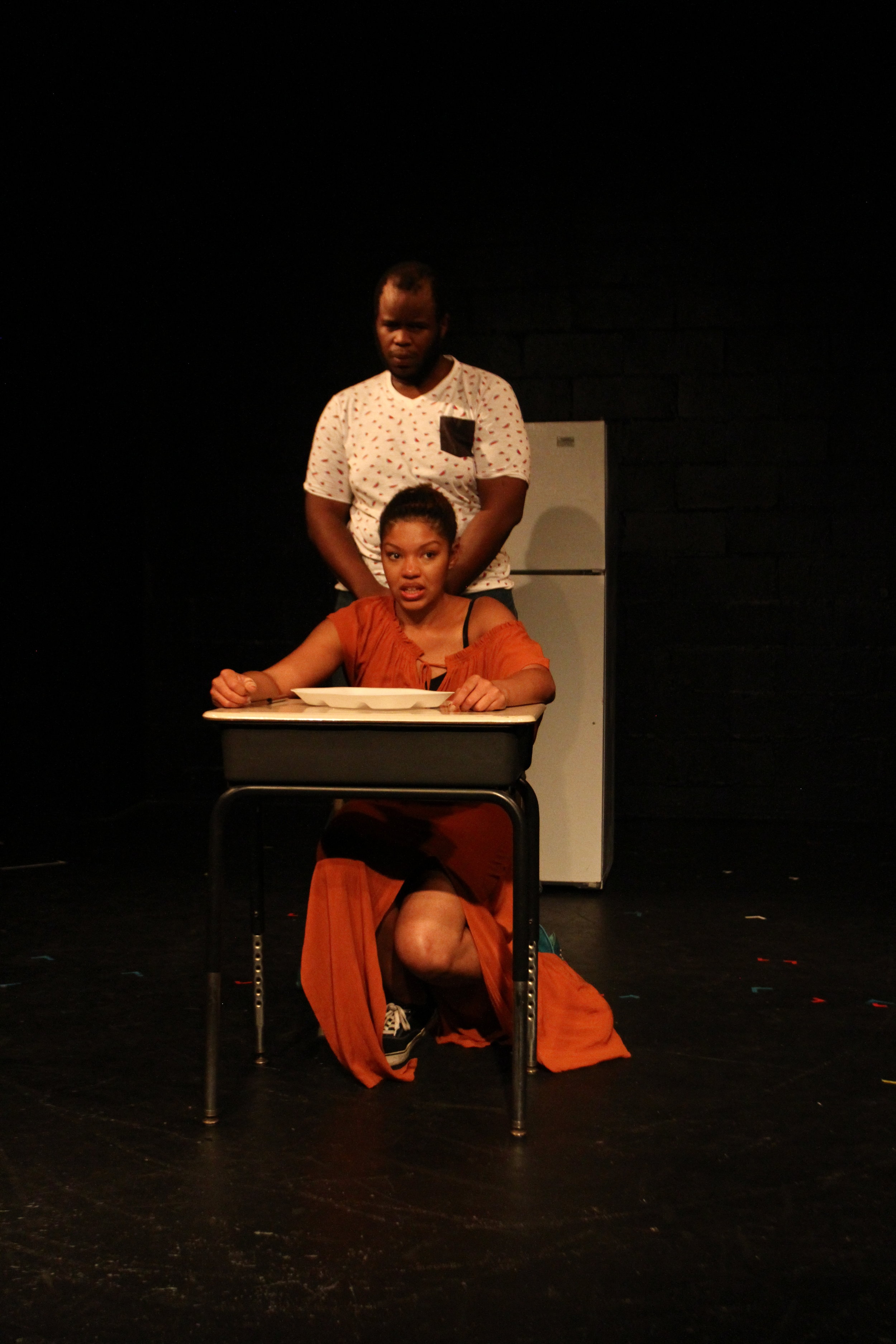 Photo Credit: Charlotte Arnoux
ABOUT THE PLAYWRIGHT
Korde Arrington Tuttle is a playwright, hailing from Charlotte, NC. His work has been developed and seen at the Obie Award-winning The Fire This Time Festival, The 24-Hour Plays: Nationals, the Obie Award-winning Harlem 9's 48 Hours… in Harlem at The National Black Theatre, HomeBase Theatre Collective, The Movement Theater Company, The Each-Other Project, OnQ Productions, The New School's 2015 AfroFuturism Conference, and The Tenth Magazine, in collaboration with the Leslie-Lohman Museum of Gay and Lesbian Art. Korde is a proud recipient of the Steinberg Playwriting Fellowship, and was selected as a finalist for both the 2017 Alliance/Kendeda National Graduate Playwriting Contest and City Theatre National Award for Short Playwriting Contest. In 2016, his play, Clarity, won the 41st Annual Samuel French Off-Off Broadway Festival, and will appear in Samuel French's successive anthology. Korde is a Middle Voice Theatre Company member at Rattlestick Playwright's Theater, and received his MFA in Playwriting at The New School. Check out his work on instagram, via @heykorde.
TEAM
Kate Eminger (Director) is a director, adaptor and who focuses in new work and devised theater. Directing credits include: Cape Disappointment by The Debate Society, nightnight by Lucas Hnath, and As You Like It by William Shakespeare, all at The New School for Drama. Three Sisters by Anton Chekhov, translation by Sarah Ruhl (Green Building NYC), Endgame by Samuel Beckett, Hedda Gabler by Henrik Ibsen, Melancholy Play by Sarah Ruhl (Palindrome Theater, Austin, TX). She has also developed work with Ars Nova, Dixon Place, Actors Theatre of Louisville & the Humana Festival, Theater for a New City, Edinburgh Fringe Festival, and Wide Eyed Productions, among others. Her production of Melancholy Play by Sarah Ruhl was named an Austin Chronicle's Top Ten and received an Austin Critics Table Best Director nomination. Assisting credits include: GNIT by Will Eno (dir. Les Waters), The Whipping Man by Matthew Lopez (dir. Meredith McDonough), The Comedy of Errors (dir. Ian Belknap, The Acting Company). Kate is an MFA directing candidate at The New School for Drama. She is a former Directing Intern at Actors Theatre of Louisville, a member of the Lincoln Center Directors Lab 2014, and a resident chef at SPACE on Ryder Farm. She is a native Texan, based in Brooklyn, NY
Chalia LaTour (Actor - Chandra) is a graduate of Yale School of Drama's MFA Acting program where she has appeared as Sassy in This Land Was Made, Canary Mary in Fucking A, Miranda in The Tempest, and Clara Gordon in Paradise Lost. Regional credits includeCymbeline (Yale Repertory Theatre), Romeo and Juliet (Actors Theatre of Louisville), and Sleep Rock Thy Brain (Humana Festival of New American Plays). TV credits include: The Good Fight on CBS and Elementary on CBS. Film credits include: The Future is Bright and The Understudy. Miss LaTour hails from Stockton, California. La Tour is also an alumna of the Actors Theatre of Louisville Apprentice Company 2012–13 and The British American Dramatic Academy - Midsummer in Oxford program.
Alexander Lambie (Actor - Marcel) is an actor from the Bronx, and an alumnus of Atlantic Acting School and a member of Middle Voice Theater Company. Past credits include: Orpheus and The Berkshires (Williamstown Theater festival), and The Parlour (the Savage Detectives).
Jacob Halpern Weitzman (Stage Manager)
Jacob is about to fly off to San Diego as a first year MFA Stage Management student at UCSD. In New York City he has staged managed with The Flea Theater, The Public Theater and The Mad Ones. He has called New Orleans home for the last three years and has stage managed at Le Petit Theatre, The NOLA Project and Goat in the Road. Actors Theatre of Louisville: This Random World (40th Annual Humana Festival) and stage management intern (2012-2013). Jacob holds a BA in Theatre Arts from Hendrix College. So grateful that Kate needed a stage manager, Korde, Lambie and Chalia have wowed me!
FESTIVAL STAFF
CHARLOTTE ARNOUX
Managing Artistic Director, Press Liaison
RAN XIA
Managing Artistic Director, Graphic Designer, Tech Liaison
FLORENCE LEBAS
Production Director, House Manager
VICTORIA GIAMBALVO
Associate Producer, House Manager
HALEY BAIRD-RIEMER
Associate Producer, Social Media Guru
WILL JENNINGS (Tech Director) is a production manager and tech director working in New York. Recent productions include Butterfly (Heartbeat Opera), Carmen (Heartbeat Opera), Hunger Artist (The Tank), Streepshow (The Tank), and Mother of Invention (Abingdon Theatre Company). Will is the Managing Director of Critical Point Theatre and the Assistant Technical Director at Columbia.